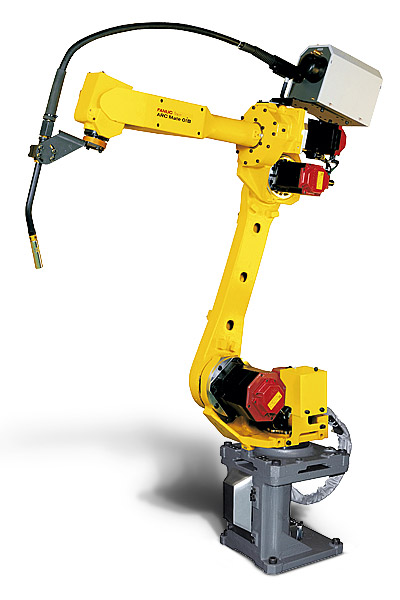 The FANUC Robot i series is a series of highly reliable intelligent robots with the sophisticated advanced controller R-30iB with intelligence and networking for versatile applications.
Robots to help you reach your manufacturing goals in any industry
FANUC has the robotics products and expertise to help you succeed. With more than 100 robot models and over 40 years of helping manufacturers achieve their production goals, we're ready for any manufacturing challenge in any industry. FANUC robots are easy to operate and provide complete flexibility thanks to a range of application-specific options, straightforward integration, payloads up to 2,300kg and maximum reaches up to 4.7m.
Robots specifically designed for arc welding
Purpose built for arc welding applications, FANUC's ARC Mate series welding robots are the product of years of experience in robotics and welding. The FANUC ARC Mate Series includes a variety of models with payloads of up to 20 kg and reach up to 2.0m, suitable for a wide range of arc welding, laser welding, soldering and cutting applications. FANUC has customized a variety of tools to increase the FANUC ARC Mate Series Robot's versatility, and to help make your processes more efficient and profitable.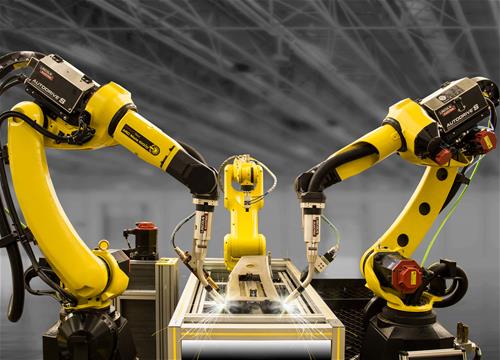 Fanuc Robot Collaborative Robots: The Future Lies in Collaboration
Close your eyes and imagine a world without safety fences: A world in which humans work side-by-side with robots. In this world, robots directly collaborate with people, becoming a crucial part of the team. Alongside their co-workers, these collaborative robots take over tedious, repetitive tasks, lifting up to 35 kg, thus maintaining your worker's health and safety while automating entire assembly lines. With FANUC collaborative robots, that world is here today.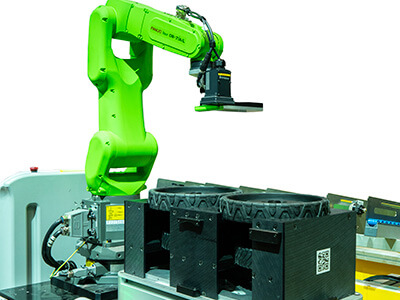 Fanuc Robot LR Mate: The versatile robot that increases productivity in nearly all tasks
FANUC's LR Mate Series of human arm-sized robots are your best compact solution for fast handling and processing parts up to 7 kg across a whole range of industries. FANUC LR Mates are available in several models including food, clean room and washproof versions, each with different reaches and wrist speeds to meet your specific needs. These robots can be equipped with an array of intelligence features including vision & force sensing functionality for even higher levels of accuracy and productivity.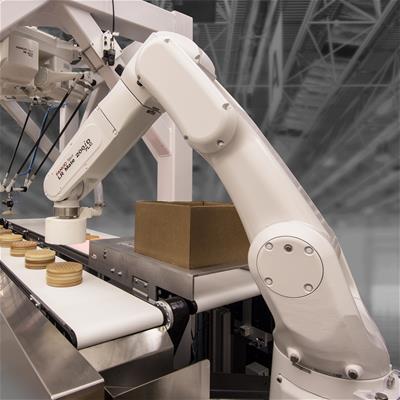 FANUC M-1iA Series: The light payload specialist
Discover the unique, ultra-compact FANUC M-1iA Series Robot and enter a new dimension in high-speed small parts handling. With 3, 4 or 6 axes, this series of high-speed delta robots is ideal for a variety of applications requiring a maximum payload of 1 kg and a work envelope of up to 420 mm. Through their ability to be mounted in multiple positions, FANUC M-1iA's can be installed directly into the most compact of machines. As versatile as the human hand, they make an ideal alternative to complicated and expensive hard automation.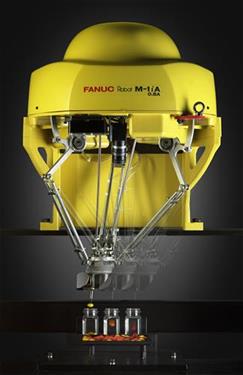 FANUC M-2iA Series: Ultra-fast picking and assembly
The FANUC M-2iA Series has been designed to meet multiple space requirements and cover a range of high-speed conveyor and ultra-fast picking, packing and handling operations. M-2iA Robots are available with 3, 4 or 6 axes, have a payload capacity of up to 6 kg and a maximum reach of 1.13 m.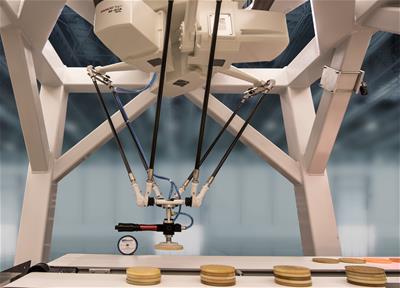 FANUC M-3iA Series: Huge versatility across a wide envelope
FANUC M-3iA Delta Robots are available in either 3, 4 or 6 axes, and are specifically designed to maximize speed and versatility for high speed picking and packing operations. Their unique parallel-link structure and very large work envelope makes them ideal candidates for automating demanding applications across a range of industries including food, pharmaceutical and electronics.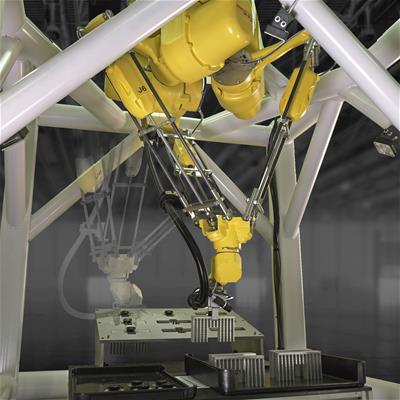 FANUC M-20 Series: Slim and strong industrial handling robot for multi-purpose medium payloads
Our industry leader in payload, reach and axis speed, the M-20 Series benefits from up to 2m in reach and can handle up to 35kg. Strong yet reasonably light, this 6-axis machine's exceptional design incorporates the benefits of a hollow upper arm without compromising performance. Ideal for multi-material handling, the M-20 makes a great choice for tasks involving medium payloads.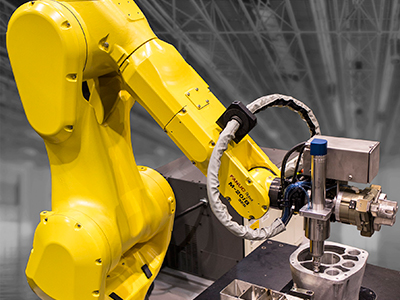 FANUC Robot M-410
That's because FANUC's M-410 palletizing series increases throughput on palletizing and handling applications for nearly any medium to heavy palletizing payload. With a capacity up to 700 kg and a reach up to 3.1 m, the 4 or 5 axis M-410 parallel link robot series is ideal for handling medium to heavy payloads. FANUC was one of the first robot suppliers to develop a series specifically designed for palletizing, and draws on years of experience and expertise in end of line automation.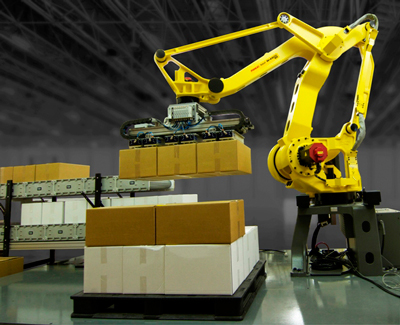 FANUC M-710iC Series: The slim wrist, small footprint robot for medium payloads.
This innovative series of lightweight robots is designed for handling applications in the medium payload range from 12 to 70 kg. Featuring a slim wrist, rigid arm and small footprint, M-710 Series robots are suitable for a wide range of applications and come with a reach of up to 3.1 m. High axis speeds make this series extremely fast. They also boast excellent payload capacities and inertia – With a vast array of models available, the FANUC M-710 Series is capable of covering a diverse range of applications.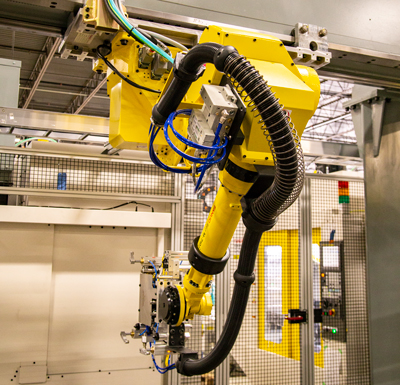 The M-2000iA series is the strongest family of industrial robots on the market
The strongest 6 axis robot on the market, the M-2000iA series comes with a handling capacity up to 2.3 t and a reach up to 4.7 m. This makes it the ideal choice for handling and palletizing heavy parts. Its outstanding vertical 6.2 m lifting stroke and horizontal reach makes processing even the largest of workpieces easy. Especially suitable for the automotive or metal industries, these heavy payload robots lift complete cars efficiently and safely.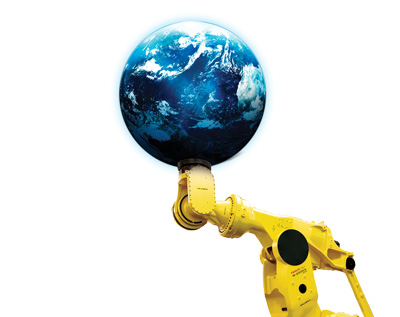 FANUC paint robots
FANUC paint robots are suitable for a wide variety of painting and coating applications, offer easy access, optimal work envelopes and maximized throughput. With some models designed to operate in hazardous environments, and a wide range of reaches and handling capacities to offer, whatever your painting or dispensing requirements you can be sure there is a FANUC paint robot model to meet your needs.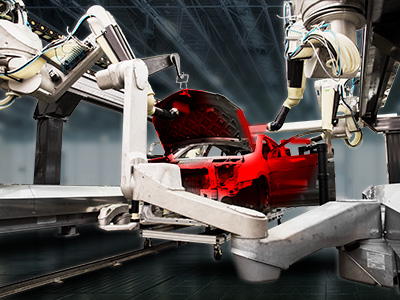 FANUC R-2000 Series: Easy installation and versatile operation in almost any industry
The R-2000 series is the most successful FANUC robot in the world. Featuring high performance capabilities and payload capacities ranging from 100 to 270 kg, it makes the perfect solution for multiple applications involving high payloads. Compact and high speed with a slim wrist and arm, the R-2000 is an all-rounder that is designed for all material handling applications and spot welding.