Bài viết giới thiệu về  Robot hop tac Fanuc- Collaborative Robot
Tương lai sử dụng Robot hợp tác Fanuc

Collaborative Robot

Imagine a world without safety fences, a world in which humans work side-by-side with robots. In this world, robots would execute all strenuous tasks, enabling humans to dedicate their precious time to lighter, more skilled or demanding tasks.

With FANUC collaborative robots, that world has already come into existence. By integrating them into existing production environments, robots directly collaborate with humans, becoming a crucial part of the team. Alongside humans, they take over tedious, repetitive tasks, lifting up to 35 kg, thus maintaining the human's health while automating entire assembly lines.
Robot hợp tác Fanuc 

Collaborative Robot CR-4iA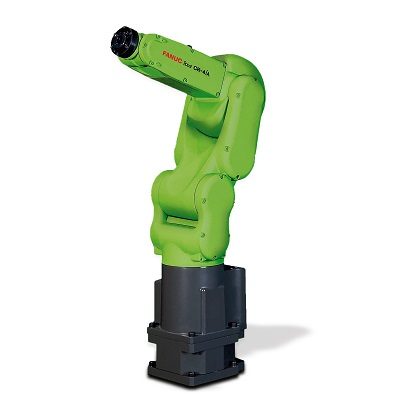 The smallest of the Collaborative Robots – ideal for confined spaces
Hi, I am the smallest of the collaborative robot range, with six axis in my arm, and my maximum payload is 4kg. Similar to my fellow collaborative robots, I handle lightweight tasks that are tedious, highly manual. My compact nature enables me to perform smaller jobs in areas with limited space requirements. It is possible for me to be wall- or invert-mounted, offering me a wider range of motion without interfering with the operator's workspace.
Since I can take over these dull jobs, your hands are free to focus on more intelligent work or even more pressing matters. We can also work together side-by-side on tasks that are more complex, and require more interactive approaches (e.g. robot hands the part and the operator handles the quality checking).
In addition to my compact, slim design, I am able to operate closely with humans without fencing due to a safety stop feature. This special ability increases the space availability, resulting in considerable cost savings.
AXIS ROBOT

6

REACH

550 mm

LOAD CAPACITY

4 kg
Robot hợp tác Fanuc Collaborative Robot CR-7iA and CR-7iA/L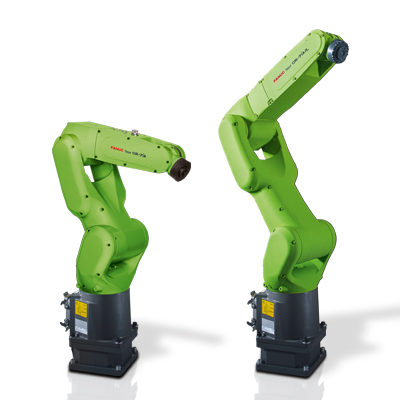 Collaboration is key
Hi, I'm small, flexible and can work right by your side. I take care of light (up to 7 kg) but tedious and repetitive, manual tasks that include different types of material handling, which would otherwise consume an immense amount of your time. Depending on your need, I can be programmed to perform entire production flows that require steady and reliable quality levels. These tasks can range from small parts assembly, to highly repetitive tasks such as picking and placing items from one place to another. My long reach of 911 mm makes me the ideal candidate for machine tending and palletizing applications.
I do not need to be fenced in, since I have a proven sensor technology integrated in me, which automatically makes me stop after collision with a fixed object or yourself. This not only saves you space, but it also reduces your manufacturing costs. I am compatible with existing FANUC accessories like iRVision.
I come in two different sizes – one standard arm and one long arm version – other than that, we are much alike. The benefit of each depends on your needs, as the standard arm is suited better if you have spacing issues, while the long arm can reach further in case your workspace is wider spread.
AXIS ROBOT

6

REACH

717 mm

LOAD CAPACITY

7 kg
AXIS ROBOT

6

REACH

911 mm

LOAD CAPACITY

7 kg
Robot hợp tác Fanuc 

Collaborative Robot CR-15iA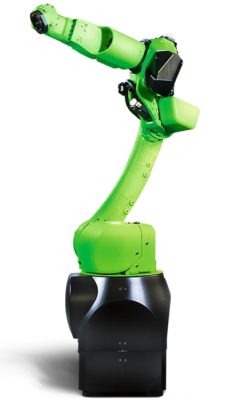 Just the right payload and reach for a wide-range of handling applications
Capable of lifting 15 kg, I'm a powerful collaborative robot that nicely fills the gap between my smaller CR-4iA and CR-7iA siblings and my big brother the CR-35iA. Just like the rest of my family, I rely on proven FANUC technology and a highly-sensitive sensor built into my base. As a result, I'm not only extremely reliable but also an incredibly safe high-performer that can work with or alongside humans on a range of industrial applications such as handling, machine tending, inspection and logistics.
AXIS ROBOT

6

REACH

1441 mm

LOAD CAPACITY

15 kg
Robot hop tac Fanuc Collaborative robot CR-35

i

A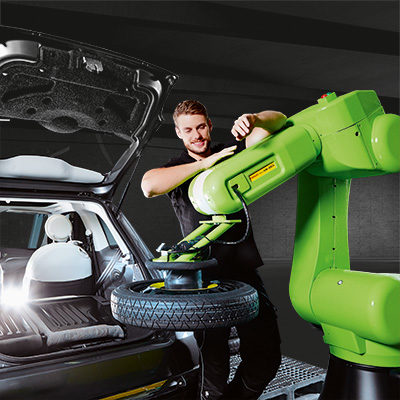 The world's only collaborative one with 35 kg payload
I'm the world's strongest collaborative robot. I can lift 35 kg. This combined with my reach and safety certification make me ideally suited to a whole range of manual processes that you humans have traditionally had to do alone. But thanks to me, that's all about to change. From now on I'm here to do the heavy lifting and positioning for you in a range of industries. That way you'll be free to do the more skilled work. But don't worry, my built-in anti-trap protection and soft rubber skin will keep you safe. I'm also happy working with you or alongside you. Either way, you can guide me, teach me or simply push me away if you need some space. As a team we're faster, safer and more effective.
DOWNLOAD DATASHEET
DOWNLOAD THE BROCHURE 
Trở lại Mục Robot : Robot công nghiệpTham khảo thêm : Robot.site